The HOT SLEEVE Heating Jacket is a System to Induce SPEEDY RESIN CURE during Patch & T Seal Lining Activities thus creating 60% savings in crew times.
Simply, the HOT SLEEVE is an electric blanket to the Trenchless Spot Repair Rehabilitation Market.
The HOT SLEEVE is a Tight Fitting Heating Jacket that is secured over the Patch Inflatable Packer to reduce the ambient cure period without reducing the Patch Matrix Resin Pot Life.
The HOT SLEEVE can be used on Straight Patch Lining Repairs, on Lateral Bends 45º to 90º, & on T Junctions where the House Line connects to the Main Sewer Line.
The HOT SLEEVE heating system is not aggressive; it passively heats the Patch Packer Area without resin boil to kick start the curing transition without loss of Patch Strength, & Longevity.
A Practitioner can expect increased revenue lines, at the same daily cost of Equipment & Labour, due to the ability to complete more installation in any one day.  The below graph shows the benefit of achieving predictable productivity irrespective of ambient cure times of resins.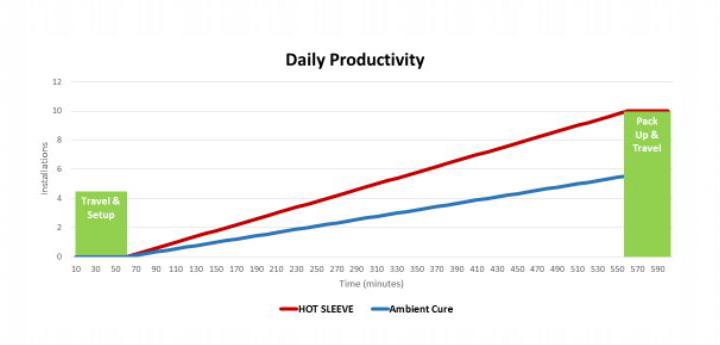 The obvious benefits to unit cost and profitability provide an unprecedented level of certainty to trenchless practitioners.
The HOT SLEEVE will reduce resin cure times – epoxies can be cured in 1hr 15 minutes & Silicate Resins can be cured in less than 30 minutes.
Currently, to achieve a longer Resin Pot Life the industry general practice is to "ICE the RESIN in an ESKY", this practice is common place especially with Silicate Resins. Whilst a simple solution, a winter installation with the right resin selection will not present any issues, however during the hot summer months, the pot life decreases as resin temperatures increase thus exposing the practitioners to a shorter Resin Pot Life presenting an increased failure window.
In cold climate regions 10ºс, pot life is not the immediate issue but resin cure time is of paramount importance, thus the HOT SLEEVE is an ideal accessory to all Patch Lining activities to reduce overall installation times.
The costs of excavating failed Patches or T Seals is an expense not currently tracked by authorities, it is an expense that is currently eroding any value for money outcome achieved using a spot repair Trenchless Solution.
The HOT SLEEVE guarantees an acceptable Resin Pot Life Period with a Speedy Resin Cure on all Patch & T Seal Lining Repairs avoiding costly failures.
To order, learn more or for the PDF version of the HOT SLEEVE Brochure and Product Range please Contact Us.
Hot Sleeve Product Range:
HOT SLEEVE Product Range