The way forward to a reliable and cost effective Sewer Networks Performance
The FlusherII is a passive gate device for controlling and maximizing hydraulic glow in sewers.
This unique patented flush generating flap valve is designed to clean and maintain drains & sewers;
By storing and then suddenly releasing the natural flow present in drains & sewers; it generates a repetitious energized hydraulic flush of effluent energy, removing debris, silt, FOG and the like which can choke a conduits function.
The FLUSHER II can be either a permanent or temporary installation.
It is specifically designed to enhance the hydraulic performance of Drains & Sewers that suffer from blockages due to silt, debris, & FOG buildups.
Flusher II removes the need of jet cleaning programs;
No more pipe damage from pressurized jetting water
Reduced customer access requirement
Removal of Heavy Jetting Truck site footprints
Reduced Potable Water usage
Flusher II is a self contained 'Push Fit' device installed in a maintenance chamber  and is fully operational;
Made from Stainless Steel for Longevity
Permanent or Temporary installations
Requires no power
Can be easily relocated
Quick to install with instant operation
Minor Chamber adjustment
Inherently fail safe during storms as built in over flow
Telemetry/Data Logger available

Intelligently designed this simple, user-friendly mechanism is 'Pushed Fit' into position and then sealed at the D/s MH face. This installation flexibility allows configuration changes as it can be a permanent or temporary installation.
Requires No Power, Removes Jetting Cost and leaves No Carbon Footprint.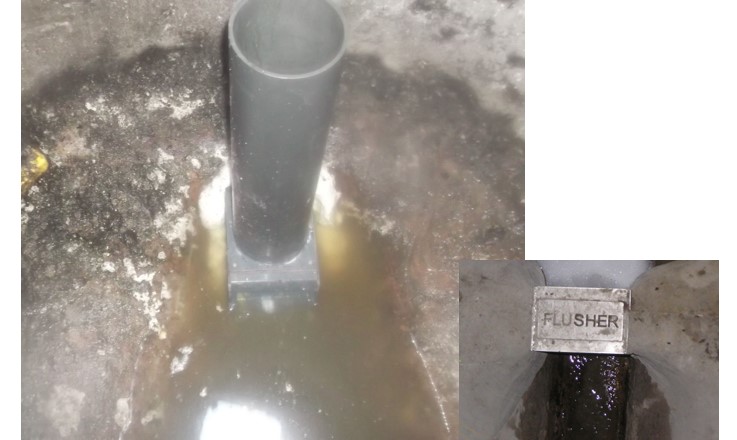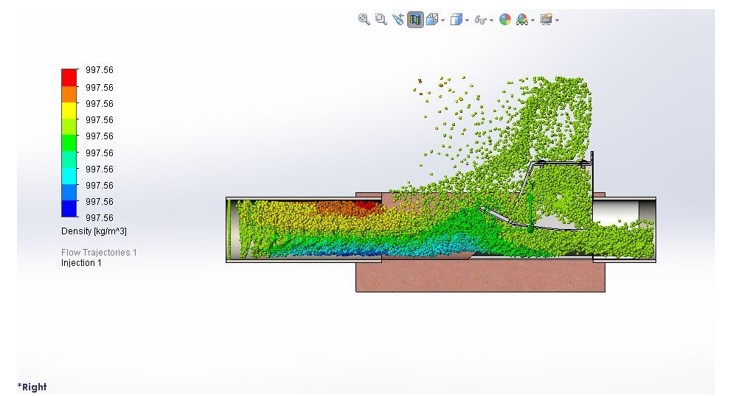 FLUSHER II delivers:
Cost Savings; expect a minimum of 71% cost saving over a two year period when compared to a quarterly cleaning program
Less customer complaints; access to residential properties is a one off, not quarterly repetitive
No asset damage due to high pressure water jetting activities
No Carbon Footprint – No power required to operate
Increased conduit serviceability due to Silt, Debris & FOG removal
Less surcharge risks due to overflow stack
Minimal Site Foot print – only one site visit to MH
FLUSHER II is:
Competitively Priced
Made in Australia
Interchangeable & fast to install
Available with Telemetry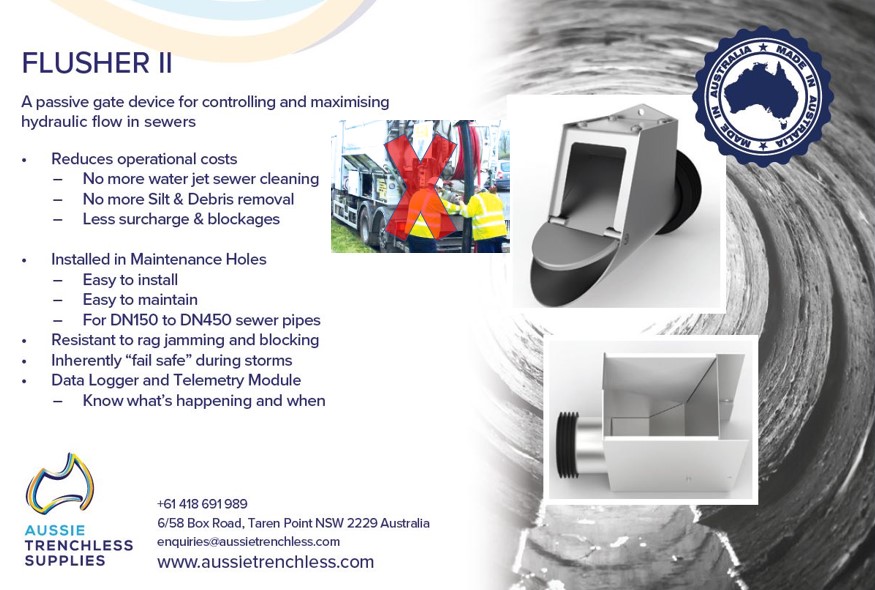 Aussie Trenchless is the exclusive supplier of FLUSHER II. Contact Us for further information.